Does a Slidell Business Need to Close During Commercial Water Removal?
12/24/2021 (Permalink)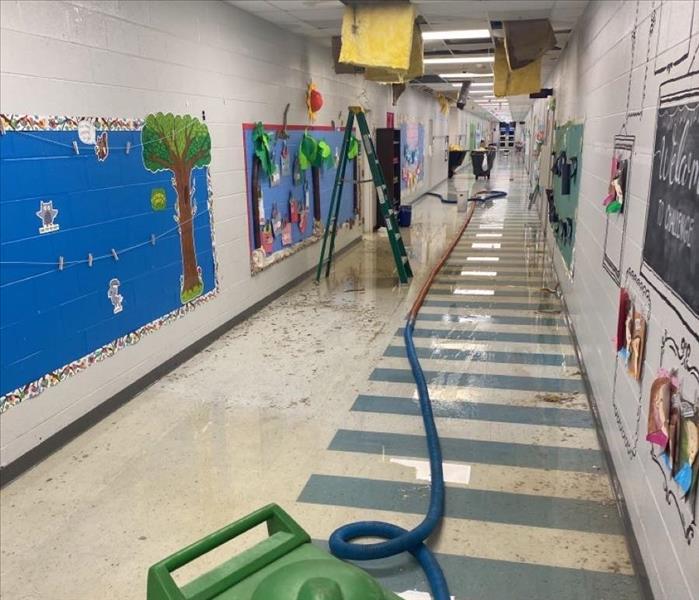 Commercial water damage restoration services by SERVPRO are second to none. Call now for fast and immediate service.
SERVPRO Techs Work to Get Slidell Businesses With Water Damage Back to Daily Operations as Rapidly as Possible
A frequently asked question in a Slidell business with water damage is, "How soon can I reopen?" SERVPRO technicians approach every water cleanup job with the same goal to save the property owner as much cost for replacement and repair as possible and get the company reopened for daily operations as usual.
Many factors can affect the outcome of a commercial water removal job in a Slidell business property. SERVPRO technicians have the professional equipment to extract any amount of water from within a structure. However, there can be other issues such as:
Unsafe conditions due to structural damage
Length of time before the cleanup began
The timing of a water cleanup job can have a heavy bearing on the outcome. As the minutes tick by, water degrades; if it already had bacteria from an event such as a toilet backup or groundwater entering the structure, the problem can compound into a hazardous situation.
SERVPRO technicians have professional solutions to treat water to make handling and rendering harmful elements such as bacteria and pathogens inert. The technicians also wear protective gear to ensure they remain safe during the restoration service.
Articles within the business that contact water get inspected for the potential for reuse after drying. The technicians remove furnishings, stock items, and electronic equipment that cannot safely remain on-site during the water removal and drying of the property. If the items cannot be stored in another building area, SERVPRO can set up secure storage until the remediation efforts are complete.
SERVPRO of Slidell at (985) 649-1516 brings professional water removal services to Slidell commercial properties. The experienced, certified technicians are available 24/7 for any size water damage cleanup job.